Winner
Congratulations to Damian Alexander for winning the 2017 Locher Award!
"Through compelling and brutally honest storytelling, Damian's entries successfully make the personal political. His comic about his teenage self thinking he had AIDS simply because he was gay speaks to the importance of media representation. His meditations on technology and suicide are also thoughtful and socially-relevant."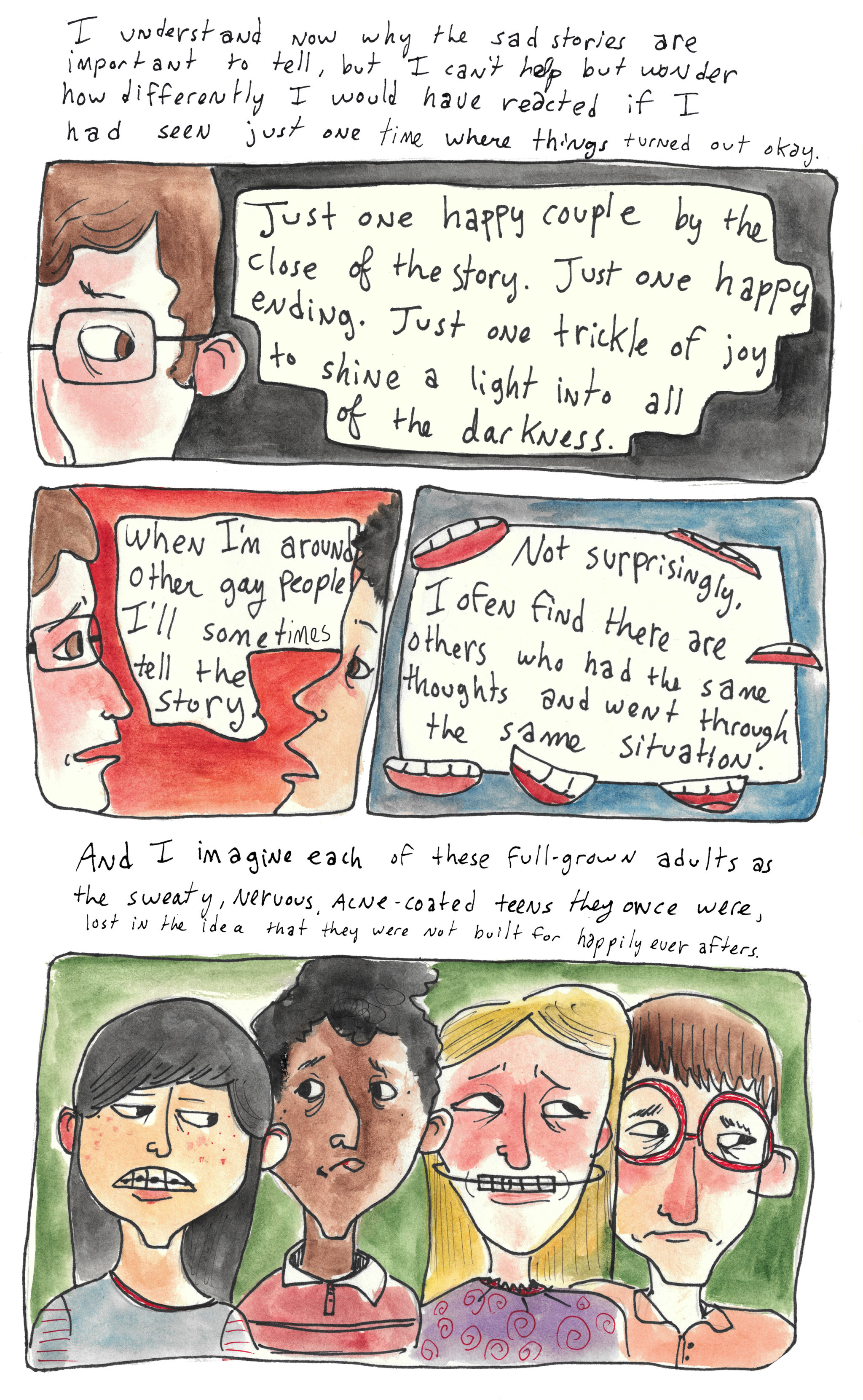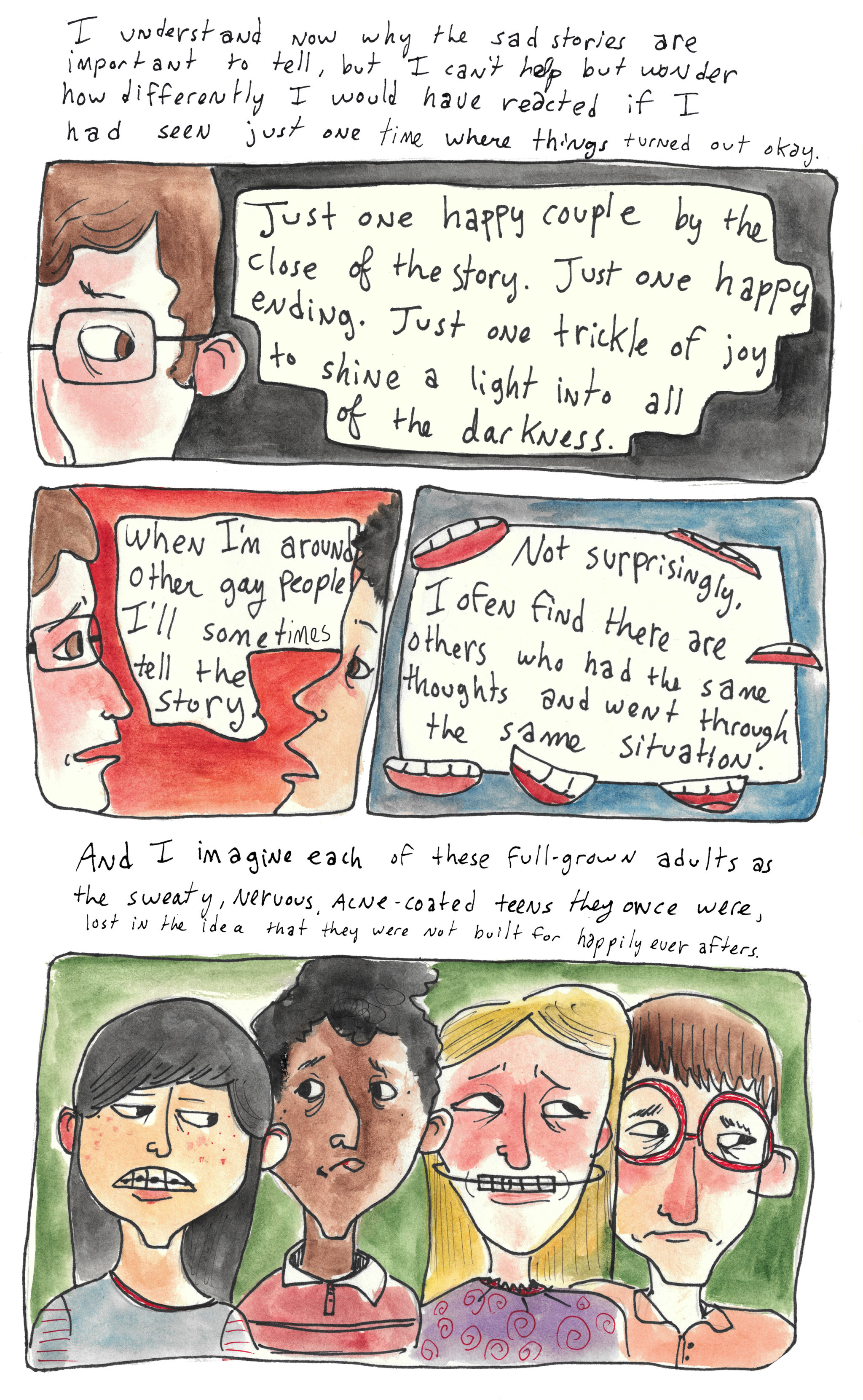 "I'm gay. That means I have AIDS, right?" originally appeared on Narratively, where you can read his other submissions on suicidal ideation and technology.
Damian Alexander of Boston, MA is a graduate student at Simmons College. His illustrations often highlight personal experiences with social equality, LGBTQ issues, and mental health. Damian's comics have appeared on Narratively, and gone viral on tumblr. He has also been a contributing writer to Polygon, Teen Vogue, and others, highlighting social issues in mainstream media. Damian is currently working on a graphic memoir about LGBTQ issues and his experiences with mental health. You can find more of his work at damianimated.com
Honorable Mentions
The judges would also like to highlight the work of three honorable mentions:
1. Madeleine Witt
Read Under the Water at Guernica Magazine, and check out her website.
2. James Tsiridis
See more of his cartoons and illustrations at his website.
3. Moaz Elemam
Read Distant Fires at The Nib, and check out his website.
The judges said:
Few of the entries registered as "editorial cartoons" in the traditional sense. The honorable mentions were typical of the inventive story-telling that characterized many of this year's entries. Madeleine Witt's multi-panel depiction of a family in transit echoed Biblical illustrations. James Tsiridis came closest to editorial cartooning with his funny/telling image of Jesus asking if the person he was going to heal had any pre-existing conditions. Moaz Eleman moved us with his fierce, unsentimental portrayal of the Sudan. In other entries, he experimented with animation. These artists are pushing editorial cartooning in new directions. We look forward to seeing where they go as their drawing strengthens to match their story telling.
This year's judges included:
Jen Sorenson
Jen Sorenson is a nationally-published political cartoonist and comics editor. She is a 2017 Pulitzer finalist and recipient of the 2014 Herblock Prize and a 2013 Robert F. Kennedy Journalism Award. Find her work at Jensorensen.com.
Mike Thompson
Mike Thompson is the editorial cartoonist for the Detroit Free Press. His work has won numerous honors, including The 2002 Overseas Press Club Award for cartooning, the national 2000 Society of Professional Journalists Sigma Delta Chi Award, the 2000 National Press Foundation Award, the H.L. Mencken award and the national Women in Communications Clarion Award. Find his work at the Detroit Free Press.
Signe Wilkinson
Signe Wilkinson is the editorial cartoonist at the Philadelphia Daily News. Signe's honors include the 1992 Pulitzer Prize for editorial cartooning (the first woman to win this award), the 1997, 2001 and 2007 Overseas Press Club Award, the 2002 RFK Award and she has the distinction of having been named "the Pennsylvania state vegetable substitute" by the former speaker of the Pennsylvania House of Representatives. Her cartoons are syndicated by the Washington Post Writers Group. You can find her work at the Philadelphia Daily News.
Thank you to our judges, SPX, The CTN Animation eXpo, and everyone who submitted to the Locher Award!